Tilikum—the "star" of Blackfish, the damning documentary about SeaWorld's cruel practice of tearing wild orcas away from their families and then breeding them in captivity—is dead, following decades of exploitation in the marine-mammal abusement industry.
Blackfish Full Movie by inibintangkumanabintangmu
RIP Tilikum. On Friday 6 January 2017 he died of unknown causes, but he is now finally forever freed from confinement and abuse. This gentle giant of the ocean was stolen away from his family over 34 years ago and placed in a small cement cell over a 100 million times smaller than his home range.  He was confined to strangers from other orca families, bullied by other orca's and abused by SeaWorld staff by denying him food if he did not perform to their requirements.    They also sexually manipulated him 22 times to gain sperm to create offspring, of which 11 died before he did, and that he would never see or get to love.  His death was a culmination of a lifetime of abuse, manipulation and confinement.
His confinement was filled with depression and this stress lead to him killing 3 humans during his captive life.  The poor animal wore his teeth down by chewing on metal bars due to frustration and boredom.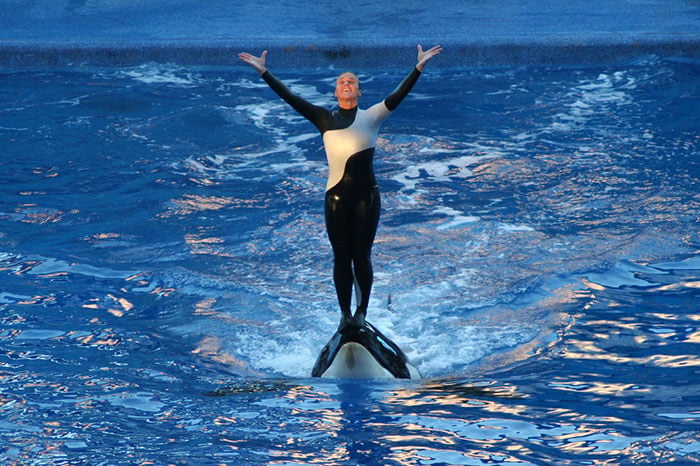 Dawn Brancheau - Riders on the Storm | Ed Schipul | CC BY-SA 2.0
Dawn Brancheau was one of SeaWorld's star performers and no hero in my eyes.
SeaWorldofHurt: Tilikum died without ever again knowing freedom. He must be the last orca to die at a SeaWorld abusement park. The company needs to release all the remaining animals from its facilities—the orcas, beluga whales, bottlenose dolphins, sea lions, walruses, penguins, and others—and rehabilitate and return them to nature or release them into coastal sanctuaries, where they could spend the rest of their lives in as natural a setting as possible, which, contrary to its greedy claims, is both reasonable and achievable.
---